Excerpt of the booklet of the aquatints We DO exist: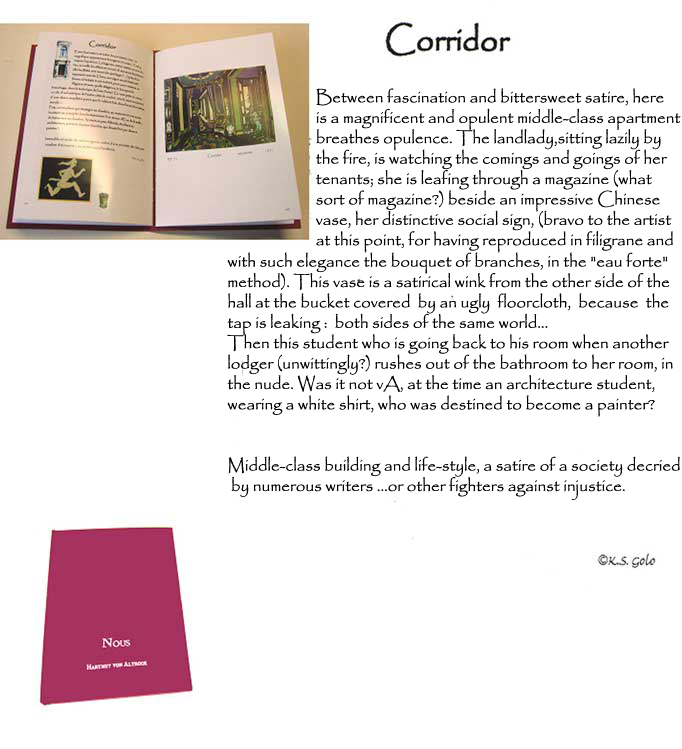 Printing : 20 copies, numbered and signed by the artist.
also available in German. 2009 edition.
(...) By rising ever higher in the poetic universe, Altrock masters his past. His aquatints are filled with the same spirit that crosses Proust's "Search for Lost Time". His art is not in the least ingenuous, quite the opposite : it is erudite, not without satire and in this pleasant intention displays a great fondness for surrounding objects without being sentimental. He shows his courage in placing himself firmly against the current.
(Der Tagesspiegel, December 11, 1969, Albert Büsche)
(...) A kind of Berliner Beardsley, with dual purpose and spirit.
(Stuttgarter Nachrichten, April 28, 1971, kd)
(...) A moment of exaggerated watchfulness, where dream transforms itself into vision; there the painter finds himself face to face with an agressive reality. An irony, in the manner of Thomas Mann, reveals itself, facing empty and hypocritical values. An infinitely rich shade-chart who fears no contrast and allows colour to become form. The oil paintings are composed according to carefully thought-through principals and are the result of considerable research and preparatory studies.
(Catalogue Galerie Baukunst, Cologne, May 22, 1967, Wöhrmann)